HONG KONG AND CHINA
20-30 July 2003

Hong Kong:
20-7:After two weeks in Thai, from Bangkok International Airport, we board a Gulfair Airbus, bound for Hong Kong. We will visit our friend Jason, we met him last year during our safari in Tanzania. I kept in touch with him by e-mail during the year. He kindly invited us and we came! Jason will show us his city of birth from its best side!
More than 400 years ago, Europe traded already with China. In the 18th century, the trade mushroomed and the European demand for Chinese tea and silk was on the rise and the balance of trade was more and more unfavourable to the Europeans. Until they started to run opium into China. Of course, China didn't agree with that and threatened to throw foreigners out of the country. The opium had an alarming effect on their economy and created a civilisation of addicts. The war of words ended when Great-Britain had sent two warships to China. There were only two ships, but they managed to destroy 29 Chinese ships. The following First Opium War went much the same way and at the end of that war, Hong Kong Island came in the hands of the British.
In 1860, the Second Opium War followed and the British took the Kowloon Peninsula. Finally, in 1898, a 99-year lease was granted for the New Territories. In 1997, the lease would come to an end. Although Hong Kong Island and Kowloon were supposedly from the British for good, the Chinese would probably want these two parts back also, together with the New Territories. In 1984 an agreement was reached between Great-Britain and China: China would take over the entire colony in 1997, but Hong Kong's unique free enterprise economy would be maintained for at least 50 years. Hong Kong would become a Special Administrative Region (SAR) of China, with the official slogan "One country, two systems".
Hong Kong, the former British Crown Colony was handed back to China on June 30th 1997. Never before in modern history one country handed over part of its territory peacefully and especially not a world-class-city like Hong Kong!
Jason is waiting for us in the arrival hall. Although his hair-colour has changed from black to dark red-brown, I recognise him immediately. I am so happy to see him again!
We wait for the bus to go to the island of Tsing Yi, where his apartment is located. He lives there with his mother. On the bus, we go to the top floor and sit in the front, we have a good view there. On the Tsing Ma Bridge, we can see Victoria Harbour already, the centre of Hong Kong. What a massive amount of concrete and steel!
Jason's apartment is in a high building, he lives on the 12th floor. We are lucky, there is an elevator and it works! Jason had warned me in advance that his apartment is very small, but it looks like it is pretty much bigger than my own apartment in Belgium, so that will be OK. Mario and Guy will stay in Jason's bedroom, while Bok and me will sleep on the floor of the living room.
Jason's father welcomes us with a cold sweet-bean-soup, our first encounter with the local kitchen! Who knows what culinary adventures are awaiting us in Hong Kong and China.
The subway takes us to Kowloon, together with Hong Kong Island it is the central heart of Hong Kong. It is so hot and we will have a drink near Victoria Harbour. Jason advises us to have some sort of cold tea and he says after drinking that, we will not be bothered that much by the tropical heat that hangs over Hong Kong. So we try that! Unexpectedly, in the tea there is a big black blob inside, which almost makes me puke! "It is jelly, you must drink that too!", says Jason.
Right before dark, we embark on the Star Ferry. Kowloon and Hong Kong Island are separated by what looks like a wide river, but this is actually the sea. On both Hong Kong Island and Kowloon are the tallest buildings of Hong Kong, most of them contain business-offices.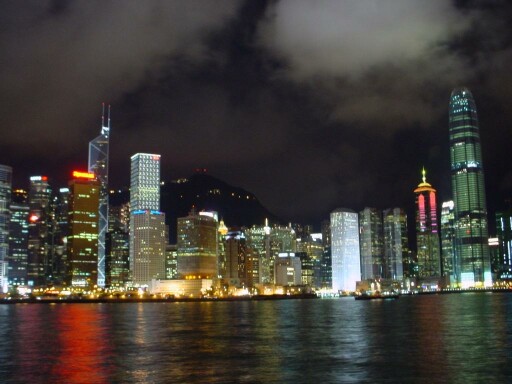 Victoria Harbour
When darkness falls, the lights on the buildings illuminate and the view is unbelievable and unforgettable! A fresh wind is blowing on the boat, much better than the tropical heat this afternoon. Victoria Harbour radiates an unseen beauty and magic at night!
After the cool boat trip, we become hungry, although I still didn't digest the jelly fully. Jason takes us to a tiny open-air restaurant on the food market. The seafood is displayed outside along the street. It is wiggling and crawling and it is watching us with fearful eyes. It will be fresh indeed! We must choose what we will take and three minutes later it will be served cooked. We take some snails, some big shrimp and some shells and other indefinable things. It is not what we expected to eat tonight, but it is the local kitchen. Guy claims to have problems with his stomach and he doesn't eat at all.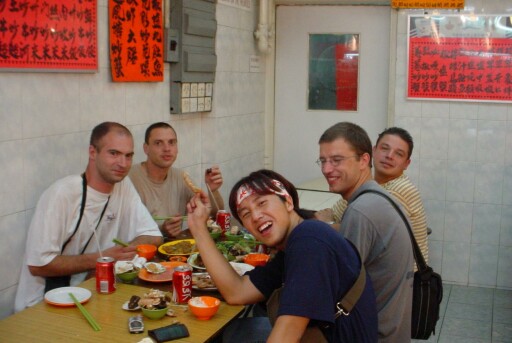 Dinner at the night market
On the night market in Temple Street, there are some fortune-tellers, but we don't want to know our future, because tomorrow we will travel to mainland China, and there is a typhoon heading in that direction at this moment!
The taxi takes us back to Tsing Yi.
China:
21-7:Jason's parents have invited us to have breakfast with them, before we head for mainland China. They are so nice! We will eat Dim Sum! Dim Sum means, "little heart" or "touching the heart". The name refers to the food that is served in small portions on equally small plates. The restaurant is very big, full of people eating at big round tables. Trolleys are wheeled from table to table by old women serving the food in bamboo canisters stacked high. We must pick the canisters we want, but let Jason and his parents do that, because we are unfamiliar with the strange food! The Dim Sum food is mouth-sized and is eaten with chopsticks, of course. No cutting or dividing is necessary. Most typical are a kind of meatballs, wrapped in a rice-made soft wrap. We also have chicken-feet in sweet-and-sour sauce! And a white blob called to-fu. From time to time, the meatballs crack between the teeth. We feel a bit strange eating this food. Jason and his mother ask us why we don't eat more, we eat so little! Guy is wearing a strange and suspicious face. Probably the culture shock is too big for us, we didn't expect this kind of strange food.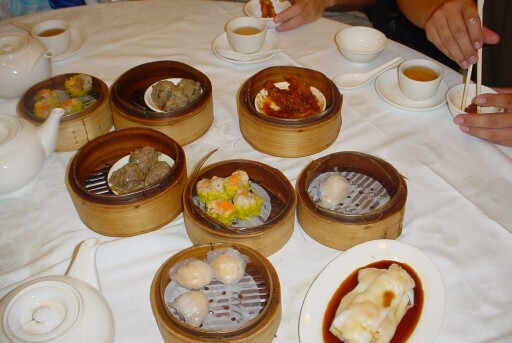 Dim Sum breakfast
After heading back to Jason's place, we pack our bags for China! There is a tear in my small backpack that I want to take to China. I got it from Bert as a present from Thailand after his trip, only half a year ago. It is "real Thai fake"! And the tear is getting bigger and bigger!
At the train station, we buy some snacks to eat on the train. It is a long trip, and we don't know if food is served on that night-train. The snacks are unfamiliar to us also. Such strange food here, even the snacks! We can taste almost everything, but all is hard to define. Jason
chooses dried meat, and Mario chooses some nougat-candies. At least that last one is something we know! Jason laughs at us: "Hey, that's for kids, man!"
From Hong Kong, first we take the day-train and cross the border with China in Shenzhen. This fast expanding city is already in China. We ride on to Guangzhou, one of China's bigger cities in the province of Guangdong, the cradle of the SARS-disease. Here we cross the border patrol. That goes very smoothly, we are inside China!!!
We take a taxi to another train station. We are so lucky that Jason speaks Mandarin, he can explain everything here! In the other train station, we will take the night-train to Guilin, a medium-sized city in China. The trip will take 12 hours.
In the train station, the goings-on are a bit chaotic! Most of the people are peasants from rural China. They are all staring at us and they must wonder: "What are those 4 ghosts and the Japanese guy doing here?"
The 4 ghosts would get lost completely here, because the signs and train tickets are in Chinese only, but Jason, the Japanese can read that perfectly!
On the train, the compartments are for six persons. In our compartment there will be one stranger, that means we will have to guard our bags, because on these trains, pick pocketing occurs frequently when western tourists are on board. And there is no door to lock the compartment!
There is a piece of good news also, beer is sold on the train! But the one who drinks beer, he will eventually have to go to the toilet and in this way, I come in contact for the first time with the Chinese public convenience. It takes a while before I can enter the toilet, because the doors are always locked. Is there a dead body in the toilet? Jason asks a conductress, with a rather serious communist face, why the doors are locked. "That is because the train is standing still. The toilets cannot be used." Jason says: "Before, while we were still riding, the doors were also locked." "That is because we were in a tunnel. The toilets cannot be used there." When the train starts moving again, the doors are unlocked, finally. What a revelation! Of course, the drain of the toilet is stuck and "things" are floating inside the cabin of the public "convenience". I will not disgust the reader by talking about the smell!
When we finally go to sleep, we connect all our shoes together and put our backpacks under our pillows. Bok has to turn around, because with his feet in the corridor, he blocks that for passing passengers. The beds are made for Chinese sizes only!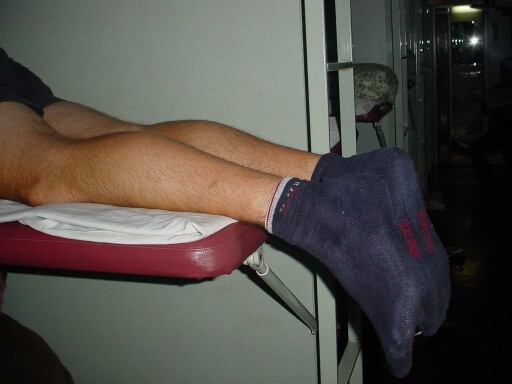 The beds are made for Chinese sizes only!
22-7:After waking up, it looks like nothing is stolen. With Jason, I watch outside the window of the train. The sun has come up already en we drive through the real rural China, with its rice-fields and peasants. Jason enjoys this view a lot. If Hong Kong Chinese are tired of the crowdedness in Hong Kong, they sometimes come to rural China to spend some time here. The peasants on the fields use cattle to work the land, tractors are not used yet! Most of the peasants have never left their village yet, no way they went abroad already.
A little while later, we arrive in Guilin station. After leaving the train station, an extremely tiresome little, but old Chinese man approaches us. He speaks English, he thinks. Of course, he knows a good hotel for us. We don't take that, but take another one and yet he keeps on following us. Now he offers us a trip for tomorrow. After bargaining, we take that.
The traffic on the main road near the hotel is somehow strange. It is one stream of bikers, pedestrians, motorcycles and cars that zigzag along the road. It looks impossible to cross the street, but from Jason, who was in China before, we learn that we simply have to walk over. The traffic will divert from us and will not hit us. Amazingly, he is right!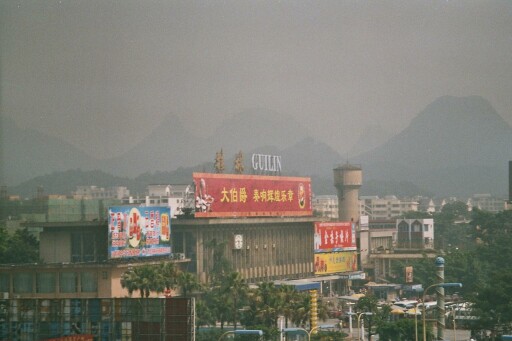 Guilin train station
We visit the urban park of Guilin with the famous "Elephant Rock". It is a rock where the "rich-in-imagination" Chinese people can see the shape of an elephant. There is a good view over the city and also the river, where fishermen are fishing. They use birds that catch the fish and bring that back to the fishermen. We also visit "Seven Star Park", there is a cave there with stalagmites and stalactites. In the cave, the Chinese have placed colourful spotlights, which gives the cave a somehow fake face.
There is also a small zoo, the cages are way too small and dirty. De animals are like dieing. The crocodile could be stuffed and the tiger is hungry biting on a broomstick. Only the monkeys are moving vividly.
Time now for a tea demonstration. A Chinese woman is showing how to make the tea. It is a whole ritual, I couldn't repeat that at home! Jason translates, but still we don't understand much about the ritual, we just drink the tea. After that, we buy a small bag of tea and get the hell out of there, without paying for the entrance of the tea-demonstration house.
We will eat in a Chinese restaurant. Actually that can be said about every restaurant here, because we are in China! Jason wants us to choose the food this time. The buffet is very confusing to us, we don't know where to start and what to pick, and moreover the place is overcrowded with people. One way or the other, we managed to get some meat on a needle and 3 large rice-dishes. Jason also orders some things afterwards. The rice is putting our mouths in fire and flames! There was a choice of 4 different rice-dishes, but the Chinese signs that explained the difference, were like Chinese to us, so we had to make a wild guess, because Jason was not around. Our wild guess rewarded us with the hottest rice-plates of all! Jason, who doesn't like this spicy rice, really believes we wanted to fool him with this!
We enter a bar and have a beer there, but the music is sooo loud!! We cannot talk and our ears cannot stand that. There are no rules in China!
23-7:The tiresome Chinese man picks us up at the hotel. We will go by boat on the river toYangshuo, a much smaller town. The guide promised us that we would have a boat for ourselves only. He spoke the truth, we get a boat from our own. Including him!
The motorboat rolls on the river. The view is magnificent! The landscape is filled with sharp-point shaped mountains, the pinnacles. They give us the opportunity to take some nice pictures. Painters often use this scenery to inspire them for their paintings and this place is often described as one of the most beautiful places in the world. I can believe that for sure!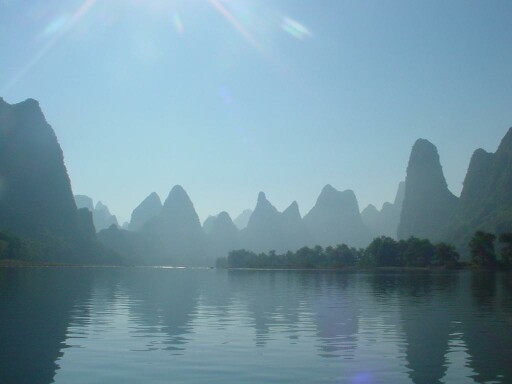 Hills supporting the sky
There is however one obstacle that prevents us from enjoying the nice scenery fully. Our guide, the tiresome Chinese little old man happens to have a vivid imagination and in the pointed mountains, he can see all sorts of different shapes, and he wants to share all these shapes he sees with us. "Old man watching an apple". "The middle finger". "The eight horses! Can you see the ninth horse?". I would love to push him out of the boat!
A while later, still on the boat, we almost collide with a cow. These cows swim in the river and eat the green stuff that grows in it. Jason finds the swimming cows so funny. "Just like hippo! Safari in China!"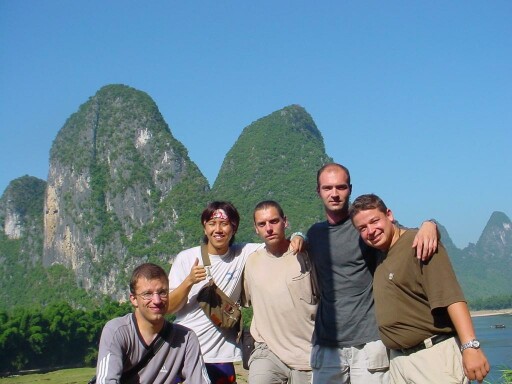 On the way to Yangshuo
We go to shore and use local transport to the rural village with the o-so typical Chinese name XingPing. Walking would have been more comfortable, because the old motorised tricycle is so wonky that he cripples our bodies. I am left with only one smashed finger and some blue-spots.
The village of XingPing is however a pleasant surprise! It is very small and simple and shows us the life of the local villagers in rural China. Jason and I are sneaking inside a house, the door is open. And guess what?.....On the wall, there is a poster of Mao Zedong!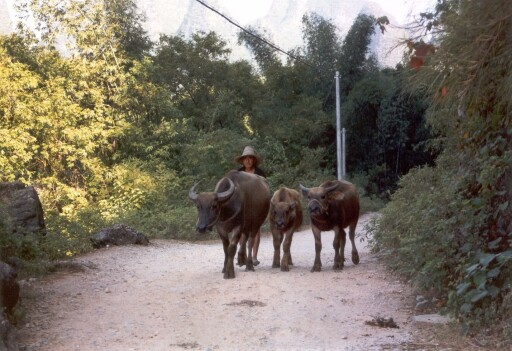 Farmer near XingPing
We will eat here in XingPing! What will that be this time? First, there is the soup. At first sight, it looks OK, but after a quick exploration of the contents, it looks like the chicken-feet and some organs are in that soup also. In my soup, there is something that looks like the chicken-head, with the brains inside! I wonder who has the bill! I want to eat that soup with all the courage of the world, but I cannot. On the following plates, there are some things that I can eat, with my chopsticks of course. Anyway, the tea was good!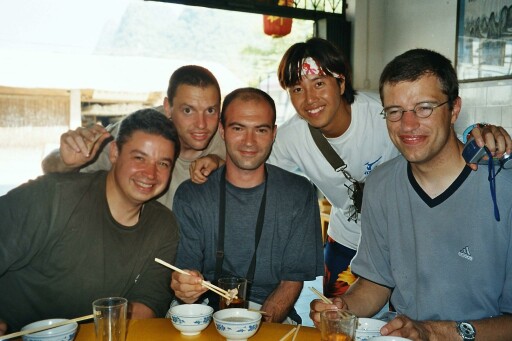 Lunch in XingPing
When we arrive in Yangshuo, we finally hope to get rid of the guide, but no such luck. First he takes us to a mud-cave. He shows us pictures how we would look after visiting the cave. "It's good for the skin!" Yeah, yeah, OK. We step in our van again, to show him that we don't want to enter his cave. After that, he wants us to make a boat trip. This looks relaxing, so we will do that. There is a Chinese boatman included, we don't have to row ourselves. Jason enjoys the tranquillity on the boat. He has been in Hong Kong for too long, that is for sure!
After the boat trip, we finally get rid of the guide! We take a hotel where bikes are for rent. It's pretty late in the afternoon, but we rent some bikes and head for the neighbouring village of Fuli Town. Along the main road, just outside Yangshuo, Guy has a flat tire already! Together with Mario, he heads back to Yangshuo to get the tire fixed, while Bok, Jason and me drive on to Fuli Town. In this rural village, Jason's eye catches a place where they produce and sell big fans. The fans are much cheaper here than in Yangshuo and other cities. Only 10 Yuan (1 euro) for such a thing. And they are handmade! We buy 8 fans altogether. The production price of a fan is 9 Yuan, only 1 Yuan (4 old Belgian francs) is profit.
Still no Mario and Guy, and it's getting dark already. We don't have lights on the bikes, so we must hurry back to Yangshuo, but with our 8 big fans on the bikes, that is not so easy. The man who sold us the fans arranges transportation for us back to Yangshuo for a small fee. The bikes, the fans and ourselves are crushed into a minivan and 10 minutes later, we are in our hotel again.
In the evening, we want to eat snake! It is a typical local dish in Yangshuo. But now, the restaurant has no snake available, it is not the right season at this time. That is why we want to try the dog in the Hot Pot. "They have some parts of the dog", is what they say. Guy, who is a dog-lover and meanwhile begins to have had enough of all the crazy food, wants to take no risks this time. He orders a plate for himself only with "something ordinary", for as much that exists in China. The dog is rather tough and tastes not so good. Mario has a piece that tastes like liver. What are we eating this time?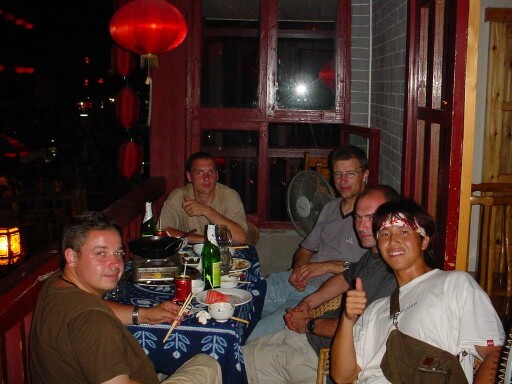 The dog in the hot pot
In China, they eat everything, also the organs. Otherwise there would be not enough food for the 1.3 billion Chinese people, that's why nothing is thrown away. One must always finish his plate completely, except for the bones. We can leave them. That is what the culture requires and not doing that, is an insult to the locals. We consume the dog as good as possible. Together with a big bottle of Tsingtao, the best Chinese rice-beer, we can do that!
24-7:We rent a bike again, this time we want to make a day trip to the Dragon Bridge. Hopefully no flat tires today! We leave Yangshuo and just outside the town, a young girl is following us, also on a bike. She wants to sell us something. Mario, Bok and Guy speed up, but the girl is persistent and follows them. After she followed us for a while, Jason asks us to buy something from her, because she did so much effort and moreover, she risked her life on the street. We buy a small fan for 5 Yuan. That money will provide her with food for one week!
We turn in a gravel road and drive along the river in the direction of the Dragon Bridge. This is rural China again, small farms surrounded by fields with farmers working the land with cattle, no tractors! The dirt road narrows and narrows all the time, and many times it splits up. We don't know if we still are on the right track, but we can still see the river we have to follow. The dirt road becomes so small, that it is actually not a road any more. We are in the middle of rice-fields with our bikes and this road is not meant for bikes, so it seems. Jason falls several times, Mario is bravely riding and Guy, Bok and me rather keep the bike in the hand.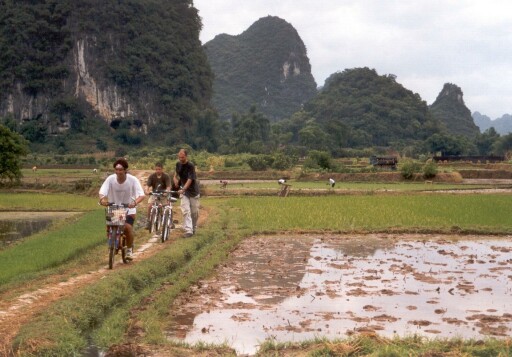 Biking in rural China
Several times, Jason asks the locals if we are still on the right track to get to the bridge and they are helpful, but sometimes send us in different directions. Am I glad Jason speaks Chinese! I wouldn't know how to save myself here without speaking Chinese. English is useless in rural China, you can forget about that for sure!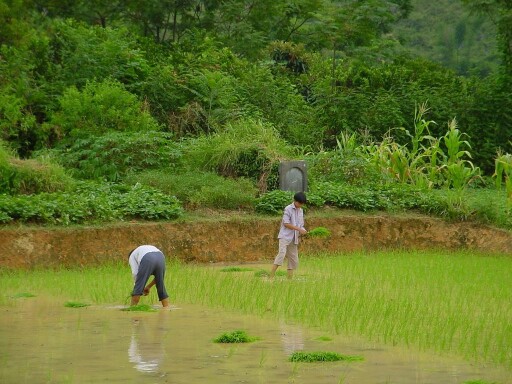 Local farmers working on the rice-fields
In the end, we find the Dragon Bridge. We have a rest here and while Mario, Guy and Bok guard the bikes, Jason and me make a boat trip on a bamboo raft. This time, we have to row by ourselves, no boatman included!
When we jump on the bikes again, Mario's vehicle is falling apart. From eating too much of the delicious Chinese food, he became too heavy, I guess. Some parts of the bike came loose and to repair that, we need a tool. Jason informs if there is a bike-repair in town, but there is none. On the other side of the bridge lives someone who might be able to repair that. Mario and Jason go take a look, but the guy went out of town to get some water. When we try to fix the bike ourselves, some locals try to help us with some tools, but none of the tools are much useful. But the locals are willing to help, that's for sure.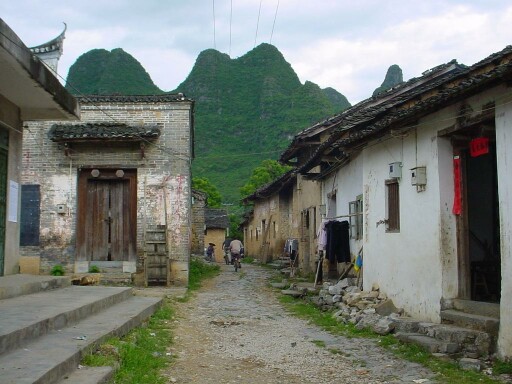 Rural village near Dragon Bridge
Only one solution left, we put Mario with his bike on the first bus to Yangshuo. We are left with four. We ride to Yangshuo by bike and it starts raining. When we think we are in Yangshuo, we don't recognize anything and we ask some Chinese people where we are. They say we are still far away from Yangshuo, but they want to bring us there with their pick-up truck if we pay for that. Jason and I don't really trust them and we turn back. In a bar we have a drink and ask for the road again. Turns out we are in Yangshuo, close to the centre of town! We outsmarted the swindlers with their pick-up truck, hahaha!
Mario is still missing and I want to make a phone call to home. With Jason, I go to a phone booth, but no one answers the call, there is nobody home. We enter an internet-café. Jason tells me that in China, not all websites are available to the people, some of them are blocked! CNN is available, yes, nobody can read that anyway because it is in English. But some sites from Hong Kong are blocked. What if the Chinese people could see that in Hong Kong, living standards are so much higher than in China, no no, they must not see that! He is still here, the Mao!
It is strange to sit here next to Jason, e-mailing to the outside world. During a whole year, we have been e-mailing each other, both on the other side of the planet, and now we are here!
We eat snails and fish in a local restaurant. The fish-head is on the dish also and should be eaten too. I give the good example and eat one half of the fish-head, including the eye that I swallow in one piece. With some Tsingtao, it is not a problem. Bok follows my example and eats the other half. Jason, who doesn't eat fish-heads, rewards us both with a T-shirt, because we are so brave. Bok gets a SARS-T-shirt and I get a Mao-T-shirt!
I phone home again and this time, my mother picks the call. Everything is OK in Belgium and in China also! We have some Tsingtao in a bar to close the day.
25-7:We take the bus back to Guilin. The tear in my backpack has become so huge, that I don't have to open the zipper to get inside. I can reach the contents of the backpack anyway! At the bottom of the backpack, there is also a new tear emerging and one of the two shoulder-banners is completely ravelled out! The thing is deteriorating rapidly now and creaks with every movement. Will my backpack be able to hold its contents until we get back to Hong Kong?
We have a quick lunch in a western-style bar and two taxis take us to the airport. The woman who drives our taxi sure knows where the gas-pedal is! I hope she knows where the brakes are too! Guilin Airport is located very far from the city centre. Would that be because Guilin is expected to expand that much?
The China Southwest Airlines airplane appears to be decent enough to get on board. It's not an old Russian Tupolev, but a reasonably new European Airbus. What a relief! The flight goes smoothly, without any problems and we land in Shenzhen, still in China. A minivan takes us to the Hong Kong border, where we and Jason split up for a while. Jason must enter Hong Kong through another gate, because he is a resident and we are foreigners. When I pass the SARS-indicator, the alarm goes off, but there is no problem, I can enter Hong Kong. The machine is probably broken. My backpack is falling apart completely now, I must hold it with my two arms to prevent the contents to fall out!
Hong Kong:
We encounter Jason again and take the train back to his apartment, where we drink the cold-bean-soup again from his mother. We hear that the typhoon that was heading for Guilin took a turn and struck Hong Kong while we were in China!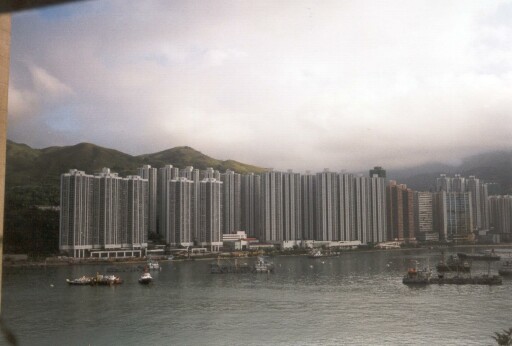 Residential buildings on Tsing Yi, seen from Jason's apartment
We go to Mongkok and eat sushi in a Japanese restaurant. The restaurant is pretty full and we sit closely together at the conveyor belt, where the food is passing by on small plates. We take what we want, the rest moves on. We eat raw fish in hot green mustard sauce. Jason tells us to try the little red octopus also. Actually, they are blood red and are not that small. Their head is rather big, but I want to try one anyway. I put the thing in my mouth entirely, that's the way it should be done. I can feel the tentacles tickling in my throat. Jason tells me: "If you crush the head, it will go bomb!" My courage is instantly fading and I almost throw-up. Almost I made a pretty scene in the over-full sushi business, it was so close! After chewing on the octopus for several minutes, I manage to swallow it after all! Another one? No thanks!
After the sushi meal, I buy a new backpack on the night-market for 15 euro. Real Hong Kong fake? In Tsim Sha Tsui, we drink a beer in a bar with live music. Wow, the beer in Hong Kong is expensive! 7.5 euro for a Carlsberg!! We only drink one beer here and head for a Seven-Eleven supermarket after that, to buy some cans of beer. We go to Victoria Harbour to drink the beer, while enjoying the magnificent scenery with the lights of Hong Kong again. That is much cheaper!
Jason is very tired. When we arrive at his apartment building, he is so tired that he cannot remember the entrance code of the building. The guard must let us in! Poor Jason, what are we doing to him with our late night café-visits and beer drinking!
26-7:Today, Jason must attend the Japanese lesson. In the morning, he goes to the library to study and in the afternoon, he will go to the lesson. We will visit the pink dolphins today before lunch, without Jason. The pink dolphins are severely endangered animals that live in the area close to the airport only. There is a lot of traffic from ships there. Slow, big ships, but also small and fast boats. The animals can only survive in this water, because it is troubled and shallow. If they move to clear water, there skin will burn by the sun and they will die. How they can survive in this heavy traffic, is a mystery to me. The government estimates their population at about 80 to 120 animals, but the organisation who protects them, thinks there are even less animals here. Sadly, many times dead animals are found near the shores. They say dolphins are intelligent creatures. Therefore, it is so sad to know that they are not happy here, but they got nowhere else to go.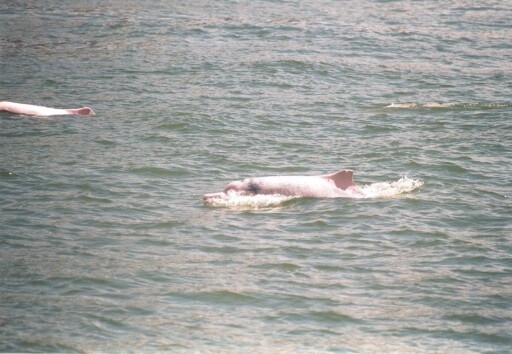 The pink dolphins
Recently, they started building Disneyland Hong Kong here also and that means more of the dolphin's natural habitat will be destroyed, what makes the animals future even more grim. The government knows that, but in Hong Kong, money comes first!
We have lunch at McCafé, a sub variant of McDonalds. Unknown in Belgium, I believe!
In the afternoon, Jason introduces us to his friend Richard. Richard is a teacher in English and he speaks English very civilised. He is from rich origin and owns a car. He takes us to Aberdeen, a suburb on Hong Kong Island, where we visit the harbour of the fishermen. These boats are used to go fishing offshore, but in many cases, they are also the houses of the fishermen.
At first sight, it looks like these fishermen are living in poor conditions, but the appearance is deceptive! Many of the boats have TV and Internet access. When they go out at sea to fish, they stay away for a month or so. The children stay in Hong Kong to go to school.
There is a floating restaurant in the harbour that used to be famous for its good cooks, but after the economic crisis struck Hong Kong, the best cooks have left in search for a bigger salary. Now, the reputation of the floating restaurant is decaying.
The Jumbo Floating Restaurant
There is also a floating supermarket that delivers food and other stuff to the fishermen. The yachts of Hong Kong's richest people are also in this harbour.
Richard takes us back to the city park in the centre of Hong Kong Island. There is a big birdcage with lots of endemic bird species. We meet Jason and take the cable-tram to Victoria Peak, also known as the Peak. It is a hill on Hong Kong Island, where we can have a magnificent view on the centre of Hong Kong and its tallest buildings.
There is some commotion on the tram while we are waiting for it, because the Liverpool football team is on it. They are in Hong Kong to play a game to the national team, but they seem to be able to find the time to visit Hong Kong's most famous attraction, the Peak!
On the Peak, we will visit the museum "Ripley's believe it or not" first. All kinds of curiosities are displayed, especially scientific and cultural stuff. The funniest are the freaks and the misgrowths. There is a picture from a man with one leg that is correctly attached to his body, but the other leg is attached in the opposite direction. Therefore it is impossible to see in which direction he is heading. Under the picture, there is the text: "Is he coming or going?" It is a nice museum.
We also watch a movie with moving chairs and special effects. That sucked, we agree afterwards.
The sun is low already, the evening is coming and we hurry outside to enjoy the view on Victoria Peak. When we get outside, there is a big crowd and a lot of police. The Liverpool football team will emerge soon and many fans wait impatiently. Mario joins them, with his camera ready to shoot! There is a bus waiting to collect the players. We wait a while, but then the police announce that the team has already left the Peak. The bus and the barricades were a decoy to deceive the crowd. "So typically Chinese!", says Jason. And Mario was also fooled, haha!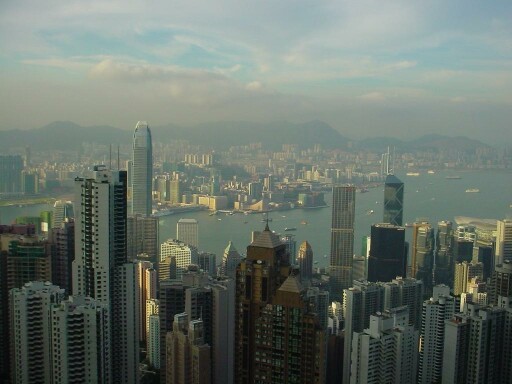 View from Victoria Peak
The view from the Peak is really amazing and from an unseen beauty! It is better than all the big cities I saw before, and that includes New York, Paris and Sydney!
When darkness falls, the magic returns with all the colourful lights on the buildings and we immortalize that by having our picture taken by a photographer.
We make our descent by cable tram and head for Hot Pot City, a restaurant where we will try the for Hong Kong legendary hot pot cuisine. Richard awaits us there, he reserved a table already. The restaurant is big with a lot of round tables. Big clouds of steam rise from the tables. In the middle of each table, there is a stew-pot in which they put the broth that is heated by a heating-element. We order dishes with raw meat and vegetables. Richard likes
pig-brains and orders some, together with duck-intestines and octopus. Guy has that suspicious look on his face again! Everybody throws in the meat he wants and takes it out again after a few minutes. Richard's brains are soft and they break up in pieces, what makes that we also have a pieces of that on our plates unwanted. Jason doesn't eat that, but to be tough, I eat some pieces of the brains and I even like them! It melts on the tongue like butter and tastes to nothing else but the broth in which it is cooked. Give me some more brains, Richard!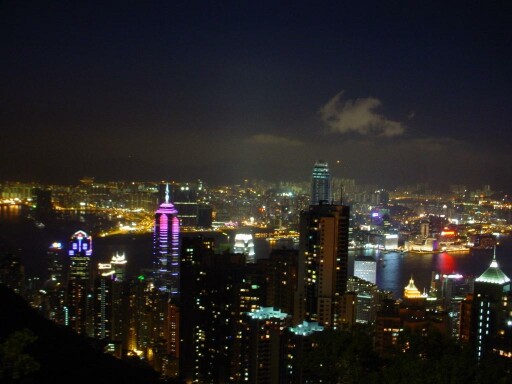 Night view from the Peak
We have another beer in the neighbourhood of Lan Kwai Fong, but again the beer is so expensive! Opposite of that bar, there is a bar where Stella is sold, our Belgian pride! Because we talked so much about that to Jason, we want him to try a Belgian Stella. But he doesn't like the Stella after all, and even we don't think that is really Stella from Belgium. The taste is not the same. Mario is getting really excited about that and he claims it is definitely not Stella!
On the way back, Jason is exhausted again. It was a very busy, but lovely day!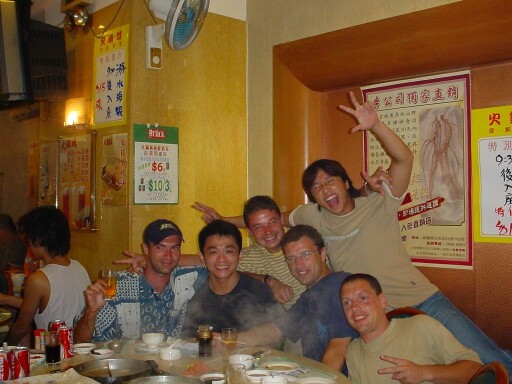 Hot Pot City
27-7: We get up in the morning and Jason's mother asks us what we want to drink. "Beer?" Our reputation circulates quickly in Hong Kong! Jason's mother bought the beer especially for us...for breakfast! We postpone the drinking of the beer for a while and have breakfast outside Jason's apartment in a fast-food restaurant.
Ella, an ex-colleague of Jason, has arranged a special trip for us today. We will go to the wetlands of Mai Po Marshes, a protected natural reserve in the northwest of Hong Kong, close to the Chinese border. Some 400 wild species of birds make a stopover here while migrating from China to the south when winter falls over China. Although it is not the right season now to see the migration, we will make a bird-watching trip there.
In the subway-station, we meet Ella, together with 4 other colleagues of her, what makes that we are in a group of 10 people!
We use two taxi's to get to the Mai Po reserve. There we meet Steve, the director of the reserve. He used to be a medical doctor, but now he takes care of the natural reserve. Today, Steve will give us a special tour and he will show us places where not all travellers can come!
We can see some little and big egrets and also other kinds of bird-species, whose names are too difficult to remember.
Mai Po are wetlands, there are ponds, brooklets and pools. There are crabs in the water, millions of them!
After we visited the visitor centre, Steve takes us through a gate in a barbed-wire fence, the Chinese border! We walk on a floating bridge between the muddy mangroves. On the mud, there are many red crabs that look familiar from National Geographic Television. They have one strong developed arm with the big scissors and one smaller arm, with small scissors. The big arm is used as a weapon to fight and to defend themselves, while the smaller arm is used to eat with.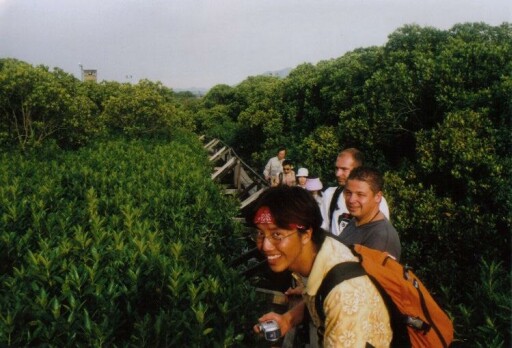 On the floating bridge between the muddy mangroves of Mai Po
Further on up the road, we encounter a floating hut. At this moment, the sea has withdrawn and the hut is in the mud, but when the water comes up again, it will be floating. We can see some more little egrets, but also thousands of mudskippers! These creatures are actually fish, but during the evolution, they adapted to survive on the land in the mud also. They crawl on the mud by using their fins. "They have hands!", says Jason.
Steve tells us a lot about the birds. We learn that they are in China now, because it is summer there, but when it gets colder, they will head towards the south and make a stop here in Mai Po. Jason was in Mai Po before, on the right moment. "It is like the wildebeest-migration in Africa!", he claims.
From a distance, we can see the big concrete communist buildings of the city of Shenzhen in China. It is a strange perception, a natural reserve, surrounded by communist buildings!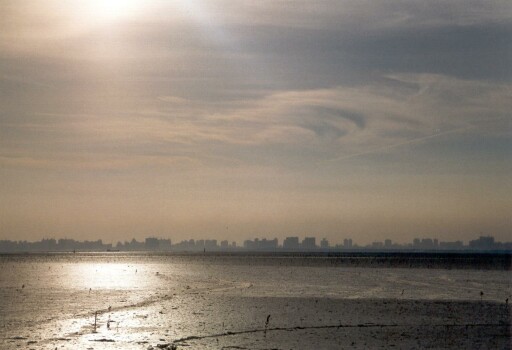 The expanding Chinese city of Shenzhen
We turn back and walk through the gate again, entering Hong Kong. There is police at the gate, are we in trouble now? No, Steve knows these policemen, and they know about our visit.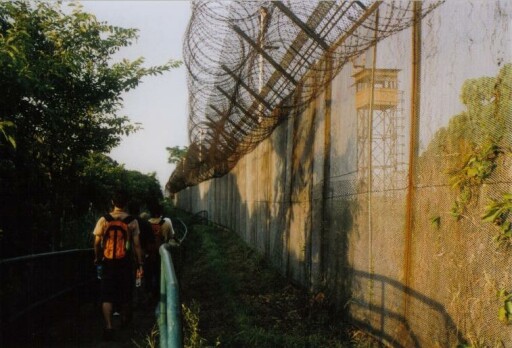 The barbed-wire fence is the border between China and Hong Kong
At one of the pools, we make a stop. We get a demonstration of how "Gei Wai", or shrimps in English are caught here. When the flood is coming from the sea, the seawater flows into the pool, bringing the shrimps into the pool. Then they "lock" the pool with all its water and shrimp from the sea. When it is low tide again, they release the valve from the pool and the water is flowing back to the sea, with the shrimps. But the shrimps are caught by hanging a big net in the drain.
Not only shrimps are caught in the net, also lots and lots of crabs. The crabs and shrimp are collected in a big wooden box and we pick out the shrimps, not the crabs, they are not eaten. They are smart and dexterous enough to get out of the box by themselves. After a while, the crabs are everywhere! And it's getting dark! Jason is not afraid of the crabs and he can't help teasing us by putting the crabs on our clothes!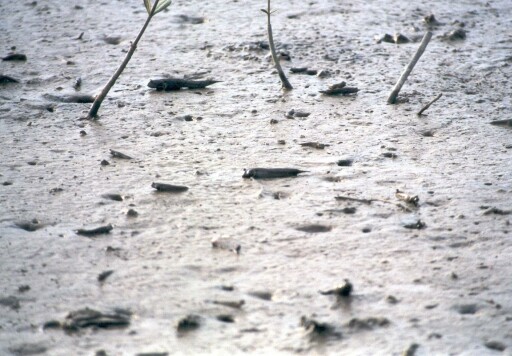 Mudskippers
After catching the shrimp, Steve promises us that we can eat them also. He takes us to the elegant restaurant "Little Egret Restaurant". What a nice place! That will be expensive!
The entrée consists of the shrimps. I didn't eat that before, but now I have to and they are very tasty! Then, different kinds of plates follow, with a lot of strange food, but very good. The most special plate is that with the octopus. It is covered with a dark-blue, almost black sauce. It is the ink of the octopus! After eating that, our lips are black and someone succeeded in spoiling the ink on his T-shirt that is consequently stained with black spots!
With the food, we have a tasty red wine from Uruguay, imported by Steve himself. Steve is well known in this restaurant and has some interests here, I guess.
After our delicious meal, important looking figures enter the restaurant and they start reshaping the restaurant in a movie-set. A scene for a new movie will be shot here. After all the customers have left, we are still sitting at our table, watching the director, the actors and the most famous boy band from Taiwan. Soon the filming will begin, so we leave and Steve pays the bill. The food was on his account, he doesn't want us to pay. Thanks Steve! When we go outside, some girls are waiting outside the restaurant, trying to get a glimpse of the boy band.
Back in Jason's apartment, we finally drink the beer his mother bought for us as breakfast!
28-7:After breakfast in the same fast-food restaurant we ate yesterday, we step on the bus to Ocean Park on Hong Kong Island. At this moment, Ocean Park is the only theme park in Hong Kong, but soon it will get heavy competition from Disneyland Hong Kong that is under construction already.
When we arrive in Ocean Park, it is not too crowdie yet. We enter another big birdcage with birds in all colours. Back outside the cage, we are persecuted by a lizard that appears from the bushes. Where the hell did that came from? Probably escaped somewhere.
We make ourselves dizzy by entering a fast-turning wheel. A wild-water ride and a roller coaster follow after that.
We take it easy in the aquarium. According to Jason, this is the biggest aquarium in the world! Mario is getting excited already when he sees the sharks and other sea-monsters.
The wildest attraction in Ocean Park is the Abyss, or the "free fall". When we are waiting in the queue, Jason is getting so nervous and acts like a little child! At the free fall, we sit in an open chair and are pulled-up vertically alongside a pole until a respectable height, something like 10 blocks high. Then there is a moment of silence, nothing is moving. Then we fall down in free fall with a big scream! Whaaaa! I closed my eyes during the whole event, because I am afraid of heights.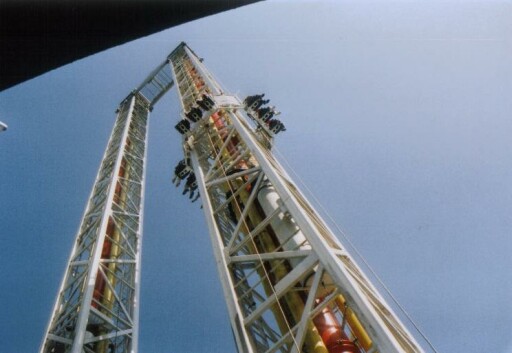 The free fall in Ocean Park
After a quick McDonalds, we want to do the free fall again. I want to try it with my eyes open, but failed. I was also not going to scream this time, but also failed. It is just too scary!
They say that astronauts orbiting the earth have the same feeling in their stomach, but then constantly while orbiting. Orbiting the earth is also a free fall, but they don't fall down to earth because they have this high speed, which makes them fall "around" earth and not towards earth. I wonder where astronauts get this long breath to scream all the time!
When we are in a queue for another roller coaster, some women try to pass us by. These are mainland Chinese, we learn from Jason. They are not Hong Kong residents, but come from mainland China. They have no good manners. Many of these mainland Chinese visit Ocean Park. To keep things under control, the managers of Ocean Park have hired some of the brutal, unmannered mainland Chinese people to work here. Only they can keep the mainland Chinese customers under control. The Hong Kong personnel is too civilised to act against the mainlanders!
Ocean Park is very big. After the roller coaster, we take the cable to the other side of the park. With 5 people, we push ourselves in one cabin. Jason is a bit worried about our weight. His father told him that a long time ago, a cabin came down from the only cable-lift in Hong Kong. But the managers from Ocean Park and the government have always refused to admit that this actually happened!
The goldfish has a special meaning in China. Not only the species originate from China, they also bread many different varieties there. Here in Ocean Park, there is an aquarium that exposes lots of strange subspecies. Most funny are the weird goldfish with the big balloons next to their eyes! How can they see anything?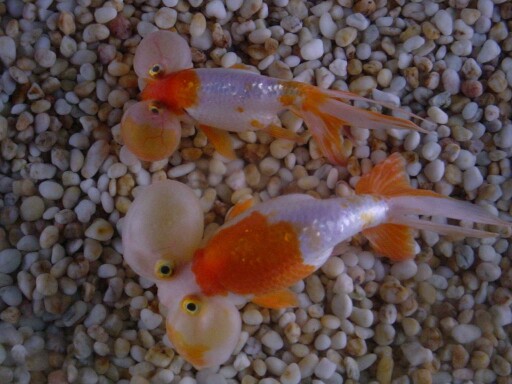 Strange goldfish
There are also two panda's in Ocean Park, the only two panda's in all of Hong Kong. The Chinese don't export panda's abroad any more, but when Hong Kong rejoined China in 1997, China donated these two animals to Hong Kong: Jie Jie and An An are their names.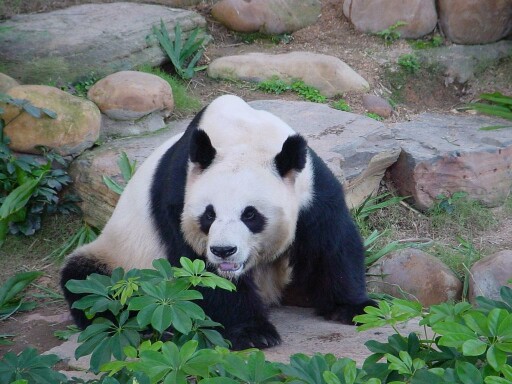 One of the only two panda's in Hong Kong
We haven't seen everything in the park, but closing time is coming. We leave the park, after walking through an imitation of the South-American Amazon Jungle, with real vegetation and animals from there. There are brightly coloured ara's.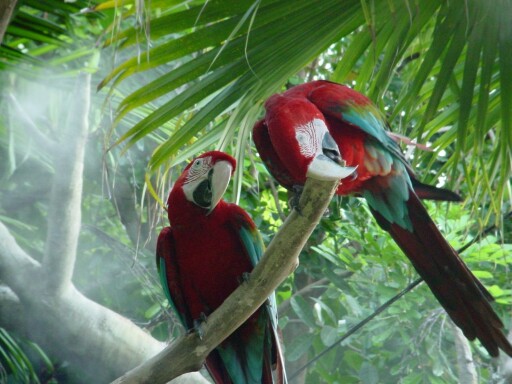 Ara's
The bus takes us back to Jason's place. His parents have prepared a meal and Jason's sister Maggie and also Richard will join the table. Jason's mother knows already that we as Belgians are quite spoiled when it comes to food, that is why she didn't prepare something extremely strange. The food is so tasty that we finish everything! Mario, who doesn't want to be a sissy even eats the fish-head that is left! He also eats the eye, but has some difficulties with that. It is as hard as a rock and he can't break it. Everyone at the table is amused by his failing attempts to crush the fish-eye!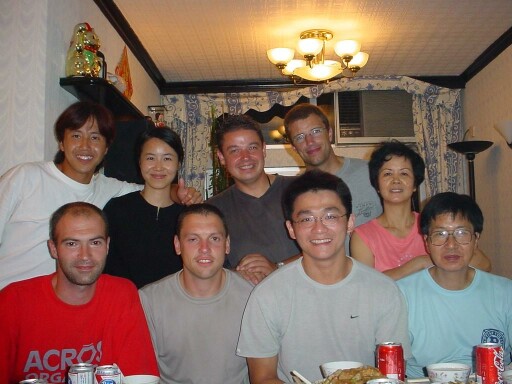 Dinner at Jason's place


After this marvellous meal, we go with Richard and Maggie to the Tsing Ma Bridge, the longest bridge in the world...that has both a railway and a road. In the dark, the bridge and the surroundings are nicely illuminated!
We take Maggie to the subway station, buy some beer and drive to the coastal park next to Metro-Plaza to consume the beer there. While drinking, Jason and Richard tell us about ghosts. They both believe in ghosts and are afraid of them. It's the same Jason that was laughing at us when we bought some candies before heading for China! "Hey, that's for kids, man!"
29-7: We get on the bus heading for Lantau Island, that's the island where the airport is located. It's a long trip and after the busy last days, we are kind of sleepy on that bus. We will visit the biggest sitting Buddha in the world...that sits in open air.
To reach the Buddha, we have to climb 250 stairs. That is a relief, because Jason's mother told us there would be a thousand!
We bought some water before climbing the stairs, because we thought there were 1000!
We don't have to take off our shoes here, like in Thailand and I start a discussion with Jason about the different interpretations of Buddhism. In China, Buddhism is mixed with Taoism and Confucianism. That is the reason for the differences in Buddhism in Thailand and China.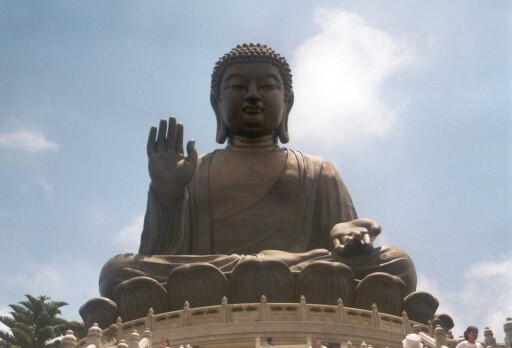 The biggest sitting Buddha in the world…that sits in open air
We have a light meal, an indefinable mix of colours and tastes and head back to Mongkok.
In Mongkok, we will do some shopping, because electronics are pretty cheap in Hong Kong when compared to Belgium. Guy wants to buy a PDM-computer, Bok an MP3-player and I a digital camera. When the 3 of us finally found what we wanted, we walk along the streets and Jason is so disappointed that my camera has more options than his model, that is only one year old, but still more expensive than mine. "You come to exploit third-world-city called Hong Kong!"
I buy a CD from Hong Kong's most popular rock-band Beyond and a small gift for Jason's mother.
We return early to the apartment and play a game with wooden sticks, while drinking beer. I can test my digital camera on the guys by filming them while they play the game!
30-7: Jason's mother invites us once more to have Dim Sum again on our last day in Hong Kong! We like to accept that invitation very much! We go to the same restaurant, sit at the same table and eat the same food, only much more! We overcame all our culinary fears after 10 days in China and Hong Kong and eat everything now! And it is delicious now, even the slightly sugared to-fu goes in without problems!
A taxi takes us back to the apartment and we pack our bags. Jason accompanies us to the airport. The end is coming closer now, and I can already feel the sadness of a painful goodbye. After checking in our luggage, we say goodbye to Jason. We shake hands and "Thank you" and "We'll meet again" is all I can get through my throat at this moment.
The plane takes off and the further we get from Hong Kong, the sadder I become. These 10 holidays were the best ones so far in my life. It all comes back to me during the flight: The first evening in Hong Kong at Victoria Harbour, the train to China, the rural villages, the magnificent scenery in Yangshuo, the bike-trips between rice fields, the dog in the hot pot, Victoria Peak with the magic in the air, Mai Po and the delicious shrimps, the poor pink dolphins, the stubborn bomb-octopus, Ocean Park and the scary free fall and so much more images run through my head like a movie. A good movie, with a somehow sad ending.
Two hours and a half after we left Hong Kong, the plane touches down in Bangkok International Airport.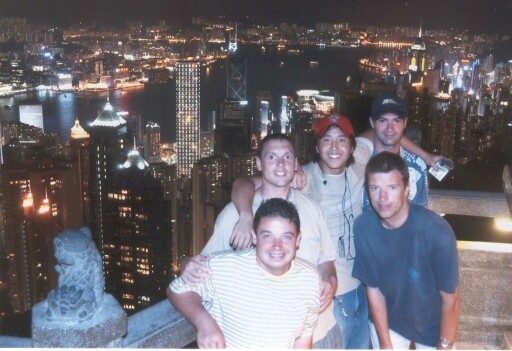 "I will never see the sky
the same way,
And I will learn to say goodbye
to yesterday,
But I will never cease to fly..."

(Vanessa Carlton)

Text: Yves Van Roosbroeck
(yves

van

roosbroeck

pandora

be)
October 2003
Hallaar, Belgium
Photo's: Bok, Guy, Jason, Mario, Yves

The brief history of Hong Kong in the introduction was taken from Lonely Planet "China" 7th edition (2001) Lonely Planet Publications PTY Ltd.